Visit Eden Grange's Hidden Gem.  Great food…Beautiful venue.
Santa's Grotto and Magical Christmas Trail!
Don't miss out! Book your tickets now! This year it is BIGGER and BETTER!
Book Santa's Grotto here.
Book the magical Christmas Trail here.
Book tickets for your children and family and get Christmas started in style.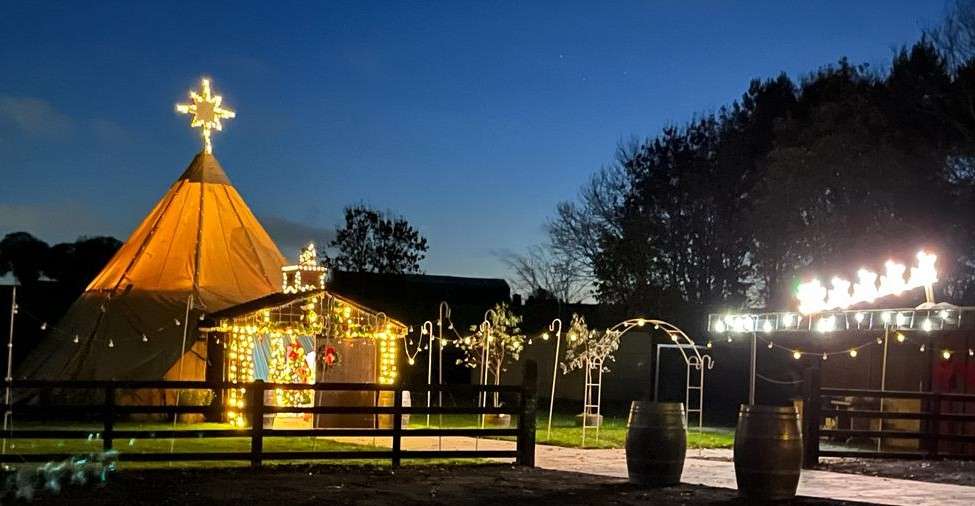 Hidden Gem Restaurant
We serve delicious, freshly cooked food from our unique and picturesque location in 12 acres of tranquil countryside overlooking four lakes.  The Hidden Gem Restaurant is open to guests and non-residents and is fully licenced.  We serve meals, snacks and drinks. We are available to hire for events and special occasions.
Booking is advisable please phone 01388 779247 or 07523950088  or use the contact form on the Book Here button below.
What We Do At Eden Grange
Eden Grange Glamping
Book a stay and really relax and unwind.  Situated in 12 acres of private countryside, we have glamping pods and luxury tipis. All fully heated and complete with bedding, towels, crockery and cutlery.  Each boasts it's own private hot tub.
Weddings
Book a place at one of our wedding fayres and see how we will make the day of your dreams come true. Marry in the auditorium over the lake and party in the beautiful tipis. Make it a day to remember. 
Fishery
Our fishery is open all year, except for the days when we have a wedding. Matches areheld on weekends and some  weekdays through the summer. Full details are on our website. 
Send us a message and we will respond as soon as possible. 
MONDAY
Breakfast 10:00am – 11:00am
Takeaway 3:00pm – 5:00pm
TUESDAY
Breakfast 10:00am – 11:00am
Takeaway 3:00pm – 5:00pm
WEDNESDAY
Breakfast 10:00am – 11:00am
Takeaway 3:00pm – 5:00pm
THURSDAY
Breakfast 10:00am – 11:00am
Takeaway 3:00pm – 5:00pm
FRIDAY
Breakfast 10:00am – 11:00am
Restaurant Open 3:00pm – 7:00pm
SATURDAY
Restaurant Open 10:00am-7:00pm
SUNDAY
Breakfast 8:00am – 10:00am
Lunch 12noon – 3:00pm
Takeaway only 3:00pm-5:00pm
We are here
Off Dale Road,  Shildon, Co Durham, DL4 2QD (follow the fishery sign off Dale Road).